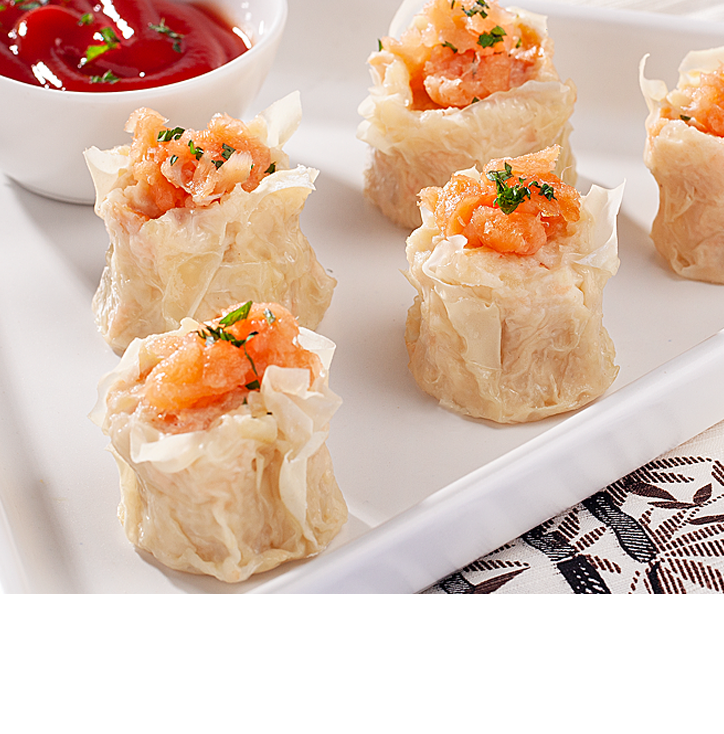 Preparation: 10 Minutes

Cooking: 10 Minutes

Serves: 4
SMOKED SALMON DUMPLINGS
Ingredients:
2 pcs Dumplings Wrappers
5g Garlic – finely chopped
20g Chicken Meat – finely chopped
10g Shrimp – peeled and finely chopped
5g Tapioca Flour
1 pc Egg – egg whites
2g Oyster Sauce
2ml Sesame Oil
1 tsp Soy
Salt, Sugar and Pepper – sufficiently
Method:
Mixed all the ingredients for dumplings filling; garlic, chicken meat,
shrimp, tapioca flour, egg whites, oyster sauce, sesame oil, soy, salt,
sugar, and pepper, mix it well.
To assemble the dumplings, use your forefinger and thumb to form
a "O" then use that as a "hole" into which you stuff the filling.
Add roughly 1 heaping tablespoon of filling to the center of a
dumpling wrapper. Repeat with the remaining fillings and wrappers.
Steam the dumplings for 10-15 minutes.
Serve it chili or tomato sauce.